AUSTRALIAN FERNWREN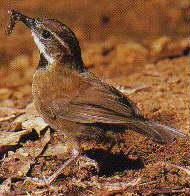 Photo: C & D Frith
Wet Tropics Rainforest Life


ENDEMIC Tropical North QLD

AUSTRALIAN FERNWREN
Oreoscopus gutturalis 13 cm

· The Fernwren is endemic to the Wet Tropics region.

· It is restricted to upland rainforests, where it forages in moist leaf litter.

· It produces very high-pitched whistling and scolding notes, yet it is difficult to see
unless the observer is patient.

· It feeds by turning over the forest litter and has been seen following larger birds to
forage in patches already disturbed by them (eg. Orange-footed Scrubfowl). It has
a fine tweezer-like bill to use when probing for animal food.

· Its breeding season is from August to February.

· The solid domed nest is often placed against a tree trunk or small earth bank. It is
made from numerous rootlets and mosses. Two eggs are usually laid here, and
both parents raise the young.

·

Other members of the same family (Acanthizidae) living in the rainforest include
the Mountain Thornbill, Brown Gerygone, Large-billed Gerygone, Fairy Gerygone
and the scrubwren species.

· Round Chambers Wildlife Rainforest Lodge , the closest Fernwrens are found at
Lake Barrine.